Internship programme
for UG, PG and Research scholars
on
RS & GIS Applications in Water Resources Management
Objectives 
To build the capacity of interns in understanding, assimilating  and applying various geo-spatial tools for efficient water resources planning, development and management, and also they will be able to apply such tools in various other relevant areas of Civil Engineering.
Programme Outcome
The internship aims at providing the right, relevant and advanced  platform for enhancing the knowledge of interns through theory, case studies and  hands on sessions, using emerging and relevant software, for spatio-temporal assessment, planning and management of water resources systems and to prepare the interns to take up the challenges when they go for professional career. At the end of this internship, the interns will be in a position to apply these tools and techniques for efficient and effective planning, development and management of water resources projects.
Overview
Spatio-temporal dimensions of water resources projects are huge in nature. It cross across States, Nations and also encompasses various climatic zones. Assessment, planning, development and management of such mega projects requires huge amount of data assimilation and management in space and it increases the complexity with temporal dimension also. Such projects required high skilled persons with sufficient expertise on information technology, remote sensing and geographic information system (GIS) and adequate expertise in managing the activities using high-end modern software.  In this program, interns will be exposed to various theories in development of such advanced subjects, demonstration through case studies and self expertise development through rigorous hands on activities.
UG(preferably after 4th semester), PG students and research scholars  of KIIT DU and UG students of other institutions
30 Days (50 hours of live sessions / 50 hrs of take home sessions)
Course fee per student is Rs.3000/-.
KIIT DU certification (subject to full attendance and followed by individual project report submission and presentation)
Resource Person
Faculty form KIIT
Faculty from IIT Bhubaneswar
Industry Expert
Mode of Teaching
The internship programme will be carried out in online mode by using any platform. The requirements for attending this course is given below:
Adequate speed internet connection (by the interns)
Laptop/desktop (by the interns)
Free software resources (by KIIT DU)
Schedule of Programme
 (50 Hours of Live Session)
Day
Duration
Topic
Resource Person
1
1.5 hrs
Role of Remote Sensing and GIS in water resources management
Prof. B. Das
2
1.5 hrs
Concept and Principles of remote sensing-I
Prof. J. Padhi
3
1.5 hrs
Concept and Principles of remote sensing-II
Prof. J. Padhi
4
1.5 hrs
Remote sensing platforms and sensors-I
Prof. J. Padhi
5
1.5 hrs
Remote sensing platforms and sensors-II
Prof. J. Padhi
6
1.5 hr
Hyperspectral remote sensing
Guest Lecture
IIT KGP
7
1.5 hrs
Remote sensing satellites of India and Abroad
Guest Lecture
IIT KGP
8
1.5 hrs
Geo referencing Technique
Prof. J. Padhi
9
1.5 hrs
Digital Image Processing-I
Prof. S. Jena
10
1.5 hrs
Digital Image Processing-II
Prof. S. Jena
11
1.5 hrs
Remote sensing applications
Guest Lecture
12
1.5 hr
Limitations of remote sensing
Prof. J. Padhi
13
1.5 hrs
Global positioning system
Prof. J. Padhi
14
1.5 hrs
Introduction to geographic information system
Prof. J. Padhi
15
1.5 hrs
Components of GIS
Prof. J. Pdhi
16
1.5 hrs
Spatial data base modelling-I
Prof. S. Jena
17
1.5 hrs
Spatial data base modelling-II
Prof. S. Jena
18
1.5 hrs
Map Projections
Prof. J. Padhi
19
1.5 hrs
Interpolation techniques
Prof. J. Padhi
20
1.5 hrs
Digital Elevation model-I
Prof. J. Padhi
21
1.5 hrs
Digital Elevation model-I
Prof. J. Padhi
22
1.5 hrs
Analysis and classification of GIS
Prof. J. Padhi
23
1.5 hrs
Errors and Limitations in GIS
Prof. J. Padhi
24
1.5 hrs
Integration of remote sensing with GIS and GPS
Prof. J. Padhi
25
2 hrs
Application of RS/GIS in Hydrological Analysis with case study-I
Dr. B. Das
26
2 hrs
Application of RS/GIS in Hydrological Analysis with case study-II
Dr. B. Das
27
2 hrs
Application of RS/GIS in flood plain identification and flood management
Dr. P. Chakraborty
28
2 hrs
Application of RS/GIS in Urban Planning
Guest Faculty/ORSAC
29
2 hrs
Application of RSGIS in Agricultural Management
Guest Faculty/ORSAC
30
2  hrs
Application of RSGIS in Reservoir Sedimentation Analysis
Dr. P. Chakraborty
(50 Hours of Hands on Session)
Day
Duration
Topic
Resource Person
1
10 hrs
Downloading process of satellite image
Dr J. Padhi
2
40hrs
Familiarization with Arc-Info
Representation of study area
Preparation of interpolation map Downloading process of satellite image
Creation of Digital Elevation model
Rainfall data extraction from grid data
Generation of surface temperature
Drought mapping
SWAT analysis
Dr. J. Padhi / Prof. S. S. Jena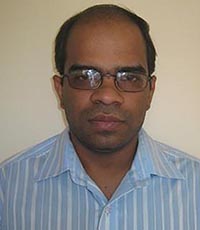 Program Coordinator
Dr. Jyotiprakash Padhi
Associate Professor
E-mail: [email protected]
Mobile: 9692023641